JpShavers Review
JpShavers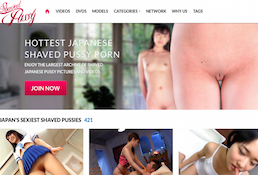 Price: $1.00 3 days
JpShavers will be your ultimate destination if you are craving for hot, hard, steamy and passionate Japanese porn content.
00000
JpShavers Review
Site Overview
As a self-proclaimed porn connoisseur, I can proudly say that Asian porn, specifically Japanese made ones are simply the best and JP Shavers is king of all Japanese porn. Now before an angry mob comes at me with their pitchforks and torches let me explain myself. Any porn adept would say that they would love any woman of shape and race, but nothing beats a nice, clean and well shaved pussy, now that gets a man's ego soaring and pants tighter.
I have searched the whole wide web for these clean kittens and it landed me in the land of the rising sun, which is JP Shavers. Admittedly JP Shavers was not the only Japanese adult video websites that boomed back in 2013, Japanese porn websites were dime a dozen, but it was not until recently that they gained fame for their rather uncommon theme. In fact, JP Shaver is one of the few that withstood the test of time and that is not only due to their shaved nether regions. In fact, what made them stay this long in the game is their bonus features. To know more about these offers, read on further and dive into the hair less mess that is JP Shavers.
Design & Features
When you log on to the website, you are first greeted by a banner of three of the smoothest shaved pussies you have ever laid your eyes on. Just below that banner are 48 preview video thumbnails, the video title, a time indicating the duration of the video and finally the name of the actresses who are featured in these videos. Just below that are promotional DVDs they have for sale, and the most viewed videos.
But the colorful and revealing front page isn't the only show stealer, it's their three main features. The first feature is their videos are the high quality. JP Shavers has guaranteed that all their videos are high quality, but I will discuss in detail later. The second feature is their unlimited streaming and downloading. Yes, you read that right, you can download and stream online with no limit. Compared to the other adult websites they either limit or charge you extra if you go past the viewing or downloading limit. JP Shavers has no download or online streaming limit so before you rejoice, let me tell you about the last feature which is the most awesome feature of the mall: access to 22 different websites.
No, you're not hallucinating, JP Shavers has 22 sister websites that feature everything Japanese themed. Websites such as Japanese Flashers, My Race Queen, Japanese Slurp and many more! My personal favorites are my personal favorites genres, which is Office Sex JP, J Cosplay and JP Nurse. To be quite honest, these three features are the secondary reason why I signed up for JP Shavers, the primary reason are their girls and videos.
Girls & Videos
The girls and videos are both stunning and of the highest quality. Let's talk about the girls first. According to their model catalog, they have at least 130+ girls on their website. The girls embody the typical traits of a Japanese girl, which is being quiet, innocent and being soft-spoken. But if I know one thing about these girls, they go from innocent amateurs to pro porn stars in one flick of their shaved pussies.
Maybe it's my personal fetish talking but nothing makes my heart melt (and my boner harder) than these cute Japanese girls moaning as they tell you to stop touching or licking their sweet shaved pussies. Some of them are just being coy when they tell you not too look at their panties but they would become total sluts once someone puts their big dick in their fresh and soft holes.
But it's not just normal, amateur girls who grace this website in fact, they are very popular JAV Idols. Japanese Adult Video Idols or JAV Idols are basically girls who want to become professionals in the porn industry and to be frank, these girls love what they are doing and do not consider it a job like their western counterparts. JAV Idols such as Aya Eikura, Hana Yurino, Amina Konno and many more! My personal favorite JAV Idols Natsuki Minami and Hina Maeda are on this website. Now let's talk about the videos.
As of writing this, there are about 380+ videos uploaded to the website. All of the videos are in standard 720 by 1080 big, which is high quality in itself, but JP Shavers offers them in low and medium solutions because they encourage members to view them on their mobile gadgets such as smart phones, tablets and other hand held devices, even on smart watches! Japan truly is the land of fast evolving technology.
Conclusion
With what I have said, it is no doubt that JP Shavers has a lot to offer but let me give you three reasons on why you should sign up for membership right away. One, their videos are high quality and as a bonus, can be viewed either in low, medium or high quality. Two, unlimited online streaming and downloading with no hidden fees, data caps, even a download limit! Three, they will give you access to their 22 sister websites, all Japanese themed and equally hot.
There you have it, three reasons to join, and let me give you three more reasons, just to sweeten the pot. One, their girls are so cute and innocent, you can barely handle their adorableness! Two, their annual premium membership costs as much as a quarter of my monthly cell phone bill. Talk about cheap and budget friendly! Finally, they upload videos at least once every three days, which means you get a lot of movies to watch in a month's time, combining that statistic with their 22 other websites, you are in for the longest meat slapping session of your life! Now you have a total of six reasons and zero excuses why you should join JP Shavers. Word of advice: sign up for at least a three-month membership. You can even save a 12-month membership than the one-month I signed up for.
Contents
| | |
| --- | --- |
| Videos | More than 380 Videos |
| Pics | No Pictures |
| Download | Available |
| Categories | japanese, hardcore |
… or read more on JpShavers from other review sites!