OyeLoca Review
OyeLoca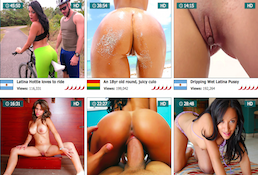 Price: $1.00 2 days
Enjoy tons of hardcore porn videos featuring some of the hottiest and naughtiest Latinas chicks.
00000
OyeLoca Review
Site Overview
The OyeLoca has a definite collection of hardcore porn videos, featuring only Latina models, who prefer their pussies drilled hard and deep. These girls have a temper, and when they get a hard cock to play with, they do all kinds of very nasty things with it. All movies here cover heavy sex and gorgeous girls, and if you want more, you can get it here. The OyeLoca will turn ten years old during this year. It launched back in 2006, and since then, it has been updating regularly, so you can enjoy its large collection. As you will see, there are more than 200 scenes, probably because they were adding scenes more regularly back in the earlier times. Nowadays, the OyeLoca keeps a monthly schedule, but the available videos will surely keep you busy for more than a month.
Since it's a TeamSkeet site, you can expect here rather good quality videos and pretty nasty sex in them. Those who always ask for more when it comes to porn site memberships will certainly appreciate the fact that as a member of the OyeLoca, you become a member of the network behind it. This way, you gain access to more than 2,000 videos, distributed through the thematic sites of the TeamSkeet. Every video you can see on the site is exclusive, and you can't find them on any other porn sites. The OyeLoca's videos are available on this site, and by registering on the main hub. Apart from the videos of the studio, you gain access to extra features, like the live cam shows and the different promotional offers to other sites, along with some extra videos. The network is updated regularly, the dates on the main site show daily updates.
Design & Features
The tour of the OyeLoca doesn't offer much. The page looks like most of the other porn sites' tour: medium thumbnails all over it, with some Gifs among them, showing juicy moments from the videos. Wherever you click you are redirected to the join page. In the members' zone, you will find yourself in front of a good page. There are several options to browse, and from the main menu, you can reach all important features. When you log in, you will see the newest videos listed first, so you can know what's currently hot. Those who are looking for something in particular, should try their luck with the search engine, though it doesn't have any advanced features.
The videos can be viewed streamed into the browser. For this, the site grants an FLV stream with several quality settings, from which you can choose even HD playback. The stream is steady, and the player provides a smooth viewing experience. Saving the videos is quite easy too. You can also choose the quality, but the format is MP4, and where it's available, you can get some 1080p files for yourself. Every video came out with a set of video captions, so you can use them as previews or else. These sets are available as zip files.
Girls & Videos
The OyeLoca focuses on two things: hardcore sex and Latinas. And it's not just a claim, you can actually find here nasty hardcore videos, with gorgeous and fresh Latina girls, going through some heavy drilling. It's always nice to find sites which cover a man's favorite niches, girl types or fantasies, and if you have a crush on Latinas, you can find your topics of worshipping in here. These videos all feature professional models, who are doing their fair share of porn video with the TeamSkeet network. You will see that they are all hot, and they are really fresh – most of them are under 30, and even under 25. Tight, mostly natural bodies and amazing, round booties are what you can expect here. Latinas are usually considered as natural booty-queens, and so they are often idols to worship… especially their juicy asses. You will see in these videos that this religion isn't without base, because these lads have some Latina-ass fetish too, so they grip and spank those round wonders as they drill the chicks from behind.
The overall appearance of the girls is really hot, and they are surprisingly varied. There are folks who can't tell one ethnic girl from the other, but these models are certainly not all the same. For example, their faces are quite different, but even the shade of their skin is distinct. The site is run by the TeamSkeet, so what you get here is the example of reality-porn. These scenes are all staged, and they are scripted, but they are made to look like they were real-life situations, like picking up the girls and paying them for sex. They are not trying too hard, and the hot couples and nice threesomes get on with the action really soon; they are not really trying to convince you. But, that's not the main thing anyway. Reality or not, these videos contain really nasty sex with amazing girls. The places the videos are shot are quite varied, and hardly any of these putas appears more than once in the site's collection. The sex is very astonishing: they get some really well-hung, monstrous guys together with these tight girls, and they get a hard drilling. To be honest, the sex in these videos is a bit rough, and though there are occasions when the guys are not from the monster-cock stable, they are sticking their boner hard and deep into those pussies… and ass-holes too.
Conclusion
The OyeLoca has a neat selection of Latina models, and the things they do are quite amazing too. In case, you enjoy watching hardcore sex, and you prefer Latinas over other ethnicities, the site has some very hot stuff in store for you. Since it's a TeamSkeet site, it also grants you access to all members of the network, so in case you like such definite collection, there are some more included in your membership. The full network access and the high video quality is enough to convince anyone to join.
Contents
| | |
| --- | --- |
| Videos | More than 200 Videos |
| Pics | More than 400 Pictures |
| Download | Available |
| Categories | hardcore, Latina |