TeenPornoPass Review
TeenPornoPass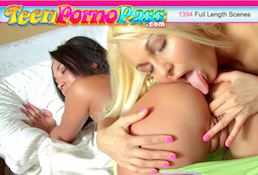 Price: $1.00 2 days
TeenPornoPass is a huge porn network that offers stunning porn content and amazing hardcore and lesbian scenes.
00000
TeenPornoPass Review
Site Overview
The TeenPornoPass is a network of seven hardcore porn sites, which offer you juicy videos of hot, fresh girls, engaging in sexually explicit activities with each other or with the man in the room. What you get here is something you won't forget, because these girls might look innocent, but they are all crazy when it comes to sex. It doesn't matter if you are looking for straight or lesbian sex, you can certainly find something you like in the members' zone. This network has been online for 5 years. It consists of seven sites, and each of them has a focus-point, the videos are sorted accordingly to this priority. There are network sites which offer you cute, yet dirty lesbian sex, and while others feature straight hardcore sex, with a fantasy as the main niche. Two of the seven sites offer you the selected videos of two porn stars, Emery and Sasha; these two girls are hot, and they get plain dirty when they have to.
At this time, the network offers you nearly 1,400 videos, and though the site claims that it's updated five times a week, there are gaps between the occasions, and usually 2-3 scenes are added to the network's collection. Some of the sites seem to have some overlapping content, and while it's not a big thing, the numbers they might show not exactly cover the truth. One thing is certain: the network will hit the 1,400 videos mark soon, and it seems to continue to grow. The videos seem to be exclusive, though they are all coming from porn DVDs, which makes it possible for you to access them on other sites. No big deal though, this is quite a definitive collection. Since the sex in these videos is good, and the quality is also really neat, you should certainly check this network.
Design & Features
At first glance, the TeenPornoPass doesn't seem to be a complicated site. It's not a negative attribute though, because this way it will be quite possible to enjoy all videos without making a fuss about finding them. The tour page looks good, but the only thing you can do is to browse the sites, videos and the girls. Preview trailers are not featured. Logging in will take you directly into the middle of the hot stuff. The site uses a template, a build, which is easy to navigate, and offers several filtering and searching options. Finding your way around the content won't be a problem. Everything is tagged, so the navigation tools will prove useful. All sites' content is easily reachable from the members' zone, and the best thing is that it has a neat mobile interface too. The videos here are available for in-browser playing, and you can also save them. There are no limits as far as viewing and downloading are concerned, and you only have to decide which quality setting you prefer. Every video seems to have galleries attached to them, and zip downloads are also possible.
Girls & Videos
The TeenPornoPass offers you some of the tightest, most gorgeous girls you can find online. These dirty cunts are doing porn for a living, and with their amazing appearance, and brave approach, they are on the right track to reach the top. All of these chicks were under 20 when they shot these videos, and if it's possible, nowadays they look even better. Since the TeenPornoPass is a network of sites, you should get ready for a highly varied collection of porn, and also the girls are quite different from one another. One thing they have in common is that they are all gorgeous and eager to get a nice cock deep inside. Most of the girls here are Caucasians, and while some of them have something about their appearance which gives them a bit of ethnic feeling, they are not fully ethnic chicks. As you will probably see, the girls here are all semi-professionals, and some of them are quite the pro nowadays. Those who like to watch cute girls taking on large cocks will surely appreciate this collection, however, it's also certain that some of these models really know how to make a large cocked male happy.
There are several sites included in the membership, and most of them cover different main niches. It's professional, studio-made porn, however in some cases you might find that the camera handling is a bit amateurish. Those who enjoy hardcore porn will certainly enjoy browsing through these sites. You could see that most of the sites here cover fantasies, and thus they are fun to watch, and it's certain that you will feel like your fantasy is featured too. For example, there are sites with lesbian sex only. It's a pretty fantastic thing to see these cuties get on each other to make dirty love. That's right, you can't find here sweet, sensual lesbian love, but hard and dirty sex with dildos in the ass and other heavy elements. While lots of one on one lesbian scene is available, you can find here dozens of group videos, which feature four or even more girls, going through some very nasty sex. Apart from the outstanding amount of lesbian hardcore these cuties perform, you can also enjoy a quite neat compilation of straight hardcore porn. There are sites in the network which feature videos where these hot girls are getting their sweet pink pussy penetrated by huge cocks, and while they are at it, they usually get their cute ass penetrated too. Two sites of the TeenPornoPass focuses on two different girls: Sasha is star of the SashaVon, and Emery rules the SweetEmery. Both of them are quite nasty chicks, and their videos well-worth watching.
Conclusion
In case you are looking for hardcore porn, but you don't want to go straight for the mainstream studios, the TeenPornoPass is a good place to start. These girls aren't big-shots, but they are hot, and they have something nasty to show you. Exploring this collection is recommended, and with the unlimited download, you can build your own compilation of the sites' videos.
Contents
| | |
| --- | --- |
| Videos | More than 1.400 Videos |
| Pics | More than 1.000 Pictures |
| Download | Available |
| Categories | hardcore, lesbian, anal, threesome, blowjobs |