PawnYourSexTape Review
PawnYourSexTape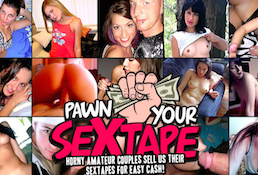 Price: $1.00 1 day
PawnYourSexTape presents a huge and exciting collection of amateur user-submitted videos.
00000
PawnYourSexTape Review
Site Overview
Strapped for cash? Then, are you willing to literally strip for cash? Yes, we just enjoyed the word play. If you have a sex tape lying around somewhere, then why don't you try submitting it to this porn site that we are going to review today? You can turn that potential video into cash. Speaking of turning amateur videos into cash, that is exactly what our next porn site review is going to be all about. We are going to review the porn site called Pawn Your Sex Tape, which according to the porn site itself, "where horny amateur couples sell their sex tapes for easy cash". Are you interested to know what other horny couples do in bed? Then that is what you are going to expect from this site.
Honestly, we appreciate this porn site more compared to the other porn sites that we have reviewed in the past that operates around the same theme. Why? Because if what this porn site says is true, then it means that all of the people involved in the making of these videos are aware that their videos are online – and that they have uploaded it to share with us. Unlike other amateur porn submission sites that brag about their "hacked" or "leaked" videos. Sure, they are thrilling to watch, but at the end of the day, it still gives you a sinking guilty feeling that you were not supposed to see what you have just seen. For some people that would be a plus, but for some of us here at the office, sites like Pawn Your Sex Tape feels so much better to enjoy.
Anyway, moving forward with the review, this porn site is actually a part of the Mad Porn network which is made up of six other amateur porn submission sites. Some of these sites are Your Girlfriends (for other amateur girlfriend porn), Lol Lesbians (for those looking for some girl on girl action), and Busted on Film (for those who want to enjoy filthy sex caught on tape!), just to name a few. We believe that this porn site is also affiliated with the GF porn network, a massive porn network made up of numerous other porn sites also related to amateur porn – but in different niches. If you really enjoy amateur porn that is one hundred percent submitted by users and members of the porn community, like us, then you can go ahead and take a look at their different membership plans. Here they are: first they have two types of membership plans, a one-month, and a three-month option. After selecting your type of membership, you may now create your own user account in order to log into the site and access the other six porn sites within the Mad Porn network. And that's it. The whole process should not take more than a few minutes.
Design & Features
One of the things that we have immediately noticed upon landing on the homepage of the site is the fact that they are really proud of their videos. In fact, images, snapshots, and other scenes that you are going to find within the videos of this porn site are all you are going to see on their site. First, a huge welcome banner will greet you and it features a collage of different pictures taken from the videos that they offer. Aside from the collage, there are two links that would lead you to either a members log-in page, or the member sign up page. Under the banner, you are then going to see the thumbnails of their latest videos. These thumbnails are really simple with limited information about the scenes. All they show is the screenshot or a preview of the most action-filled scene in that video and a link to download it.
What we like about the porn site, Pawn Your Sex Tape, though, is that they clearly filter all of the videos that are being submitted to them. You can see it clearly on the quality of the videos themselves. Even if they were just shot using limited equipment (like maybe through a simple digital camera or a smartphone), all of the videos that they accept are still clear and well lit. You are not going to see the dark and grainy videos that other amateur porn sites sometimes show.
Girls & Videos
The charm of amateur porn submission sites like this one is the number of girls that they show. They don't have a limited number of porn stars that "rotate" in being featured. Most of the time, porn sites like this have as many girls as they have videos because on every video, more or less, a different girl (or in this case, a couple) is going to be seen. Unless there is a particular couple who have made it their hobby to create and submit videos for our pleasure. Also, the girls that you are going to see here are pretty varied since they don't have a particular type of girl in feature – they depend on the videos that are being submitted to them. Hence, we are sure that you are going to find someone here that would perfectly suit your liking. Finally, the girls that star on amateur porn are more real and believable. They won't trick you by showing how much they are turned on, but in reality, they are just doing their job as erotic actresses. No there would be no fake orgasms here.
Conclusion
And we believe that that is the absolute charm of amateur porn like the videos that you are going to see here on Pawn Your Sex Tape. Most of them were not primarily made for money, but they were shot because the couple involved just love to take videos of themselves having sex. They just did the whole world a favor by permitting us to share with their priceless horny moments. How about you? When are you going to create and submit your own video? Have fun!
Contents
| | |
| --- | --- |
| Videos | More than 200 Videos |
| Pics | More than 100 Pictures Sets |
| Download | Available |
| Categories | hardcore, amateur, user-submitted |