Jenaveve Jolie
Jenaveve Jolie is one of the most prolific and widely loved porn stars in the current adult scene. She has been a staple since 2004 when she began her career, and she has appeared in 326 adult films so far. Along the years, she has been nominated for several awards, mostly AVN Awards along the years.
LIFE
Jenaveve Jolie was born on June 4th, 1984 in San Luis Obispo, California. She is a Gemini and is of Mexican origin. She was born to a Mexican-American family, and this is evident in her sensuous Latina looks that are her main trademark. She is of a petite build, standing at 5 ft exactly and weighing roughly 105 lbs. This also makes her very attractive to lovers of shorter ladies who like them to be curvy as Jenaveve is.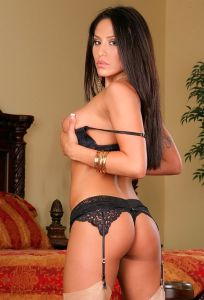 Her name is often misspelled, which makes her appear in the credits of several films in a number of different ways, the most common misspellings are Jenaveve Joli and Jenevieve, but all her names tiptoe around her original name, just written differently. She does not have any other pseudonyms.
She is a lover of alternative fashion, and she currently has two tattoos, a tribal band around her right arm and scripting on her left wrist. She also has her belly button and nipples pierced, and although she doesn't always appear with her nipples pierced in films, this is one of her most trademark characteristics.
After she finished high school, she began working at a steakhouse as a waitress, this didn't last too long as she began her adult career in 2004, when she was little before than 20 years old. She hasn't only worked as an adult performer, she also has experience as an exotic dancer and nude model, but her most famed works are in the explicit pornographic industry.
AWARDS
Jenaveve Jolie appeared in a wide selection of adult films, ranging in every subgenre and garnering a lot of attention, however, her career doesn't limit to the porn industry, as she also landed a role in the mainstream movie Bulletface back in 2010. Among her mainstream works, she was also chosen in 2009 to pose as Sarah Palin, for the February issue of High Society. This photoshoot is probably her most widely known work in print. 2009 was a good year as she also appeared on the TV show Entourage.
Her natural hair color is brown, and she has kept it that way throughout her career, as a means to accentuate her Latina looks, with her deep brown eyes, fleshy lips and curvy body. She has very nice D cup breasts that are one of the favorite features among her fans. She has been active for 9 years so far and is still one of the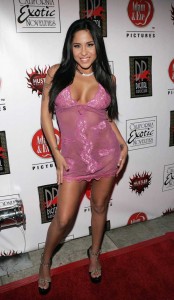 most favored stars in the adult industry due to her exotic looks and her fun attitude, she began working mainly in solo and girl on girl videos, but went on to do hardcore scenes soon after and that's her most famous work.
Among the many awards that she has been nominated for, the 2006 AVN Award for Best New Starlet is perhaps the most notable. However, due to her experience as an exotic dancer, she has also received nominations for Best Tease Performance in the AVN Awards of 2008 and 2010.
She also got nominated for her work in Girlvana, Chop Shop Chicas and Babes Illustrated as Best All-Girl Sex Scenes, in 2007, 2009 and 2010.
In recent years, she has been signed to Wicked, performing in their videos in hardcore scenes as well as girl on girl action. She also has an official site.