Hogtied Review
Hogtied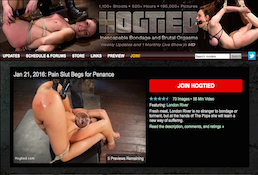 Hogtied offers some of the best BDSM porn content. All your fetishes fantasies will come true on Hogtied.
00000
Hogtied Review
Site Overview
Proudly standing as the original site under Kink, the largest fetish based franchise of porn sites, Hogtied is for those with dark fantasies. Focusing solely on hardcore BDSM, Hogtied offers large quantities of studio filmed videos and pictures. This page boasts of nasty, in-depth looks at just how far the limits can be pushed. All of the material posted is of great quality as everything is made in-house at their main center of operations in San Francisco. With no distracting ads or pop-ups, you are free to give full attention to the content featured, each pixel delivered to you in high definition so you can get full visual stimulation.
With over 1,000 tantalizing videos, Hogtied rightfully takes its spot as one of the best websites for original content in the niche it associates with. Their collection of top notch porn is updated weekly, and you can access behind the scenes bonus features, as well as watch one episode being live per month. As they are apart of a major industry, you can gain even more ways to satisfy your cravings by searching under the affiliated sites under Kink on the Hogtied page itself, for a quick and easy discovery of hot material to get you off with the dirtiest gals the Internet has to offer. It's no surprise that they have managed to rake in tons of raving reviews and continues to reign on the top of other fetish specific sites in their niche since its birth in 1998.
Design & Features
Hogtied sets the mood with their site design with aphotic shades of black and grey, highlighted with a sultry red. The navigation is kept simple and clean, with all the videos available to browse through on the main page. In addition to a search bar for finding models directly, they have several different filters to manually set to find the perfect video to suit your needs. Most of these filters are appearance or video stat based, and you can make use of their preview tab found under their banner to discovery new channels and fetish sites under Kink. Along with the option to download each video in a variety of file types, Hogtied also includes a full photo gallery per shoot to further entice with its sexy beauties. Connected to their main page on the features bar, Hogtied con direct you to a members forum and schedule of releases and events, as well as their merchandise store and additional important links. Everything is very easy to access from the website, and the membership sign-up process is laid out clear and simple.
Girls & Videos
On the website of Hogtied itself, there is no collection of their models and pornstars. To view all of the gorgeous women featured in their videos and photos, simply click on the search bar designated for models, and it will take you to the master list on the hosting website. Only 20 porn stars are featured, both male and female, each with their distinctive features listed along with a gallery of total shoots. The girls they have are extremely sexy, each with toned bodies and full tits. Several ethnicities are included under these 20 pornstars, and along with that variety comes a handful of uniquely shaped performers. From Roxanne Rae, sassy glasses wearing brunette with full lips, to Ella Nova, the bubble butt, blonde stunner; you're sure to find one that you take a liking to within minutes of discovery. With such a low amount of performers, Hogtied gives you the rare opportunity to have mass amounts of easily accessible material for each listed pornstar, and the ability to grow a rapport with their ability to bring your fantasies to life as they give amazing head, take severe hammering, and mold your dreams into reality on one easy to navigate website.
Each video featured on Hogtied is shot in dungeon style locker rooms, drab and gloomy to set the mood for each erotic and risque scene. With over 600 hours of film and almost 200,000 pictures being updated weekly, you have a never-ending supply of content to keep you hard and ready for another viewing session. Filmed in high definition, the material that Hogtied specializes in is made up of rope bound pornstars, either suspended in the air or bent over nearby items. The use of toys and demands from the typically off-screen Dom make a frequent appearance in these videos, creating a naughty and unspeakable atmosphere of one of the most hidden fetishes out there. Hogtied isn't afraid to delve right in and supply hours of dirty BDSM and fetish fantasy fun, ignoring all social rules and prompting even the nastiest of minds to discover unexplored places of the niche. While the occasional scene of rough cock sucking or mean pussy pounding is present, most of these girls are left on camera to beg and plead to their master.
Conclusion
Designed specifically to shed light on some of the more unspeakable fetishes, Hogtied offers one of the largest and highest quality collections of hardcore Dom/Sub based porn in both video and picture format. With varying levels of intensity, you can find exactly what you are looking for among the big-breasted and bound sexy ladies that have dedicated themselves to getting off for your own enjoyment. These girls are caught on film in the heat of the highest passion, and every inch of these captivating scenes are shot in professional studios to bring you the highest quality available in this niche. If you are looking for a dark take on BDSM in a more serious sense, this website is a great choice for you, as it does away with the glam and simple play and gets right to work on bringing you videos full of the nastiest fantasies you haven't even dared imagine yet. To sum up Hogtied's place in the ever-growing world of Adult Entertainment, you can count on them to be your go-to destination for mind-blowing BDSM images and movies.
Contents
| | |
| --- | --- |
| Videos | More than 1.000 Videos |
| Pics | More than 200.000 Pictures |
| Download | Available |
| Categories | fetish, BDSM |
… or read more on Hogtied from other review sites!