HotGold Review
HotGold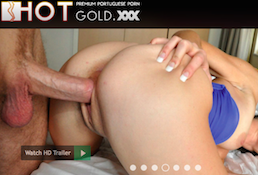 Did you ever watched Portuguese porn? If you didn't, it's time to try it and enjoy the amazing videos of HotGold.
00000
HotGold Review
Site Overview
Portugal is probably one of the sexiest countries in the world: with their girls, their accent, and their rich culture, girls here are not just hot – they have this irresistible charm brought by their country's heritage. But we cannot always pack our bags and go to Portugal, right? How we wish! If only there was a way to enjoy the sexiness of Portugal in the comforts of home. But there is! And this is the reason why we are so excited right now because we have found a porn site dedicated to Portuguese porn. At first, we really couldn't believe our eyes. It is very easy to find porn sites dedicated to Japanese porn, and much more so American ones. It is also quite easy to find European porn, but even if Portugal is part of the continent, it is already an established stereotype that Euro porn refers to UK or France, but not Portugal.
It is pretty rare to find a porn site solely dedicated to Portuguese porn so we are very happy to make a review about this porn site right now. And so, without further ado, let us now begin this review. The porn site's name is Hot Gold, and man did we find ourselves a good site right here. In fact, according to the site itself, "Hot Gold is the one and only exclusive content producer in the whole of Portugal". And what's more, is that the porn site is not limited to featuring Portuguese porn only. It also features Brazilian, French, and other hot European porn! But of course, in the end, it features mostly Portugal hotness. We also love the fact that you can take the porn site anywhere with you. They have fully optimized the site and all of its contents to be compatible with different devices. These gadgets are through tablets, smartphones, and even on PSP (or Playstation Portable). Just imagine, you're taking a long train ride, you have nothing to do, so you pull out your PSP. People around think you are just playing a game, but no. You are actually watching hot Portuguese chicks getting pounded really hard.
We know that you might be interested to know the membership details already so we won't keep you waiting any longer. There are only three types of membership plans as there are three steps to their entire sign-up process. First, you need to fill up the sign-up form. It will only need four details from you: the username that you prefer, a strong and secure password, your email address, and finally the country where you're from. After that, you may then select your payment method, and then after select one from the membership plans available. There are three main membership plans to choose from: one month, a three-month, and a one-year offer. It is just up to you which one you are going to choose.
Design & Features
We cannot stress more how much we were amazed at the porn site design. Upon landing, it felt like, bam! Now that is called effective design. It is not too flashy or crowded. It is just simple and stylish. The background gradiates from the pictures of two of their hottest models into black as you scroll down. Hence, the main theme colors are black and white. However, it has nice touches of maroon and forest green. Once you see the homepage, the first thing that you are going to notice is their latest trailer. From the trailer itself, you are already going to see how high quality their videos are. The scenes are crisp and really clear. The saturation is also really good. All of their works are truly something that you would never get tired of viewing.
Scrolling down, you are then going to see the preview of the thumbnails to their other videos. These thumbnails are simple yet effective. It contains the preview of one of the hottest scenes in the video, its title, its length, and the models that starred in it. Aside from that, you are also going to see how many likes the video already received along with the number of views. You will be amazed at the number of views that their videos receive. It also tells you how many members they actually have. A video can get up to eighty thousand views – and that's not their highest-rated scene yet! Another scroll down would show you even more thumbnails: like that of their movies and recent DVDs released, and of course, the pictures of their girls, which leads us to the next portion of this review.
Girls & Videos
The girls in this porn site are all freaking hot. Both the brunettes and the blondes here are total bombshells. They have stayed true to the vision of the site. They are indeed the authority when it comes to Portuguese porn because they have the hottest porn stars coming from Portugal on their site. We have also noticed that almost all of their girls have really curvy bodies. Almost all of them have big boobs and asses to score. You are not going see any flat-chested chick here that's for sure. And we love that! As for the videos, like what we have already mentioned above, we cannot ask for anything more. Their videos are just superior quality. In fact, it would difficult to find another porn site that would top the videos that you are going to see here on Hot Gold because all of their content, up to their exclusive and bonus updates were all filmed in high-definition.
Conclusion
To conclude this porn site review, let us impart with you a question. How much do you love the beauty of this country, and moreover, the beauty of their girls? If the answer is very much, then we are sure that you will always thank the second you have decided to click that sign-up button.
Contents
| | |
| --- | --- |
| Videos | More than 200 Videos |
| Pics | More than 200 Picture Galleries |
| Download | Available |
| Categories | hardcore, Portuguese, European |