XLoveCam Review
XLoveCam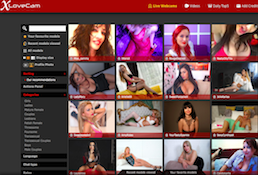 On XLoveCam you can find the greatest live sex shows around. Horny models are waiting for you.
00000
XLoveCam Review
Site Overview
There are numerous dating sites on the internet, it is the same old "create your profile" and "hit me up to talk" kind of interaction, but when you feel hot and want to be naughty and you would want to go on a different route but you do not know how, XLoveCam is the site that will do just that. It is a porn site wherein you can interact with real people, and we are talking about webcams and chat here, instead of the usual porn video collection that other sites have. They have categories of sorts that you can choose from as well as types of chats that you will surely enjoy.
Design & Features
XLoveCam is a site wherein models, in this case they are called performers, does live shows to sell their performances to the subscribers of the site, not only will you be able to watch them you can also chat them up about anything that you want to talk about. You can hit them up anytime that they are available. The site has about 8,000 registered performers and you can find the perfect one for you by using their filters such as the categories, the age levels, the eye colour. You can filter by ethnic group, height, weight, language, breasts, by private parts, hair lengths and featured private shows.
The site is very specific and very particular when it comes to matching the perfect performer for you. It works like a dating site but what you are really looking for is someone that you can get naughty with. Now once you become a subscriber of the site you will have an instant access to their free services such as the video sessions wherein you can contact and hit up the performer that you like by text or by voice.
The registration is free; the contents that you can view will depend on the plan that you are going to get after you register. You can also view the pictures of the performer that you like for free; the pictures in the gallery of the performer's profile are personally selected and uploaded by them. If you would want to see a sort of teaser video before you send a chat to a specific performer, you can view their uploaded video for free, there are performers who posts teaser videos of what they can do to promote themselves and as a subscriber you can browse through their gallery to view them.
You can also send messages to the performers free of charge. If you are ready to meet and watch the performer of your choice you can then select "Private session" and payment will depend on how much the performer will charge per session, basically that is how all of the other performers in all categories work. XLoveCams also has an option for those who want to be a part of their growing site; if you want to be a performer yourself you can send in your application using the link that is provided at the bottom part of the page. The site also has a technical support group that holds live chat sessions and they are ready to answer all of your questions regarding the site and your subscription.
Girls & Videos
XLoveCam has about 8,000 registered performers and they are all sorted into different categories. If you are new and you are not looking for anything in particular and you just want to watch the performances of the models on the site, then you can check their "Best rating" section and their "HD videos"where they got women in all shapes and sizes, in all colors and ethnicity. You can also check their categories, if you crave some girl on girl action then they have a lesbian section wherein you can watch two girls do it in front of you via cam, watch as they eat each other out and play with each other's pussies for your pleasure.
If you want to watch a full-on group sex then you can click on their threesome section and you can chat them up as they do what you please. They have girls from different backgrounds that can satisfy you fantasies, they have those who are on the heavy side of you are into BBW or you can also send a message those who are twice your age if you are more into MILF's. If you have a certain fetish from redheads then the site has a category for you, you can also check out their hot blonde models, the black-haired ones and the brown-haired ones.
If you are into European girls then they can connect you to their European models, they also Arabic and Asian girls, the beautiful Black girls and the sexy and hot Latinas. If you are a fan of some boy and boy action, they also have a list of male performers, you can choose whether you would want to watch a gay couple doing it in front of you, or you can also choose from their categories if you want to watch a male model with a massive cock wank himself. Once you select the girl of your choice you start the session and you can ask them to do the things that you have always fantasized about, your wish is their command.
Conclusion
XLoveCams is a porn site that brings something new to the table, it is not your typical porn site wherein most of the videos are scripted and there is no interaction between the model and the viewer. With this site, their main goal is to give satisfaction to their subscribers, they would want people to experience first-hand what it feels like to be able to have control on what you want to watch in a porn site.
XLoveCams gives hundreds of options and they are very specific, it could be male or female, by hair color, eye color, height, and weight, ethnic group, by fetish, so on and so forth. They sort out the things that you are looking for. With this site your imagination and fantasy is limitless. Finally, the value that they give to their members is also world class with round the clock customer support. You won't find 24/7 customer service in most of the other porn sites out there, that's for sure.
Contents
| | |
| --- | --- |
| Videos | More than 1.000 Cams |
| Pics | More than 1.000 Pictures |
| Download | Available |
| Categories | live cams |
… or read more on XLoveCam from other review sites!